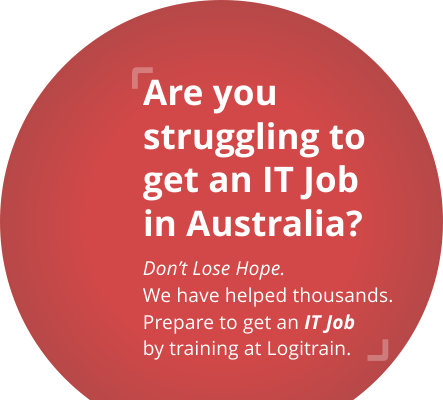 Do you know?
To get a Job you need the following:

Technical Skills and Knowledge

In-Demand Industry Certifications

Career Counselling From Experts

Australian Local Work Experience

Are you a graduate, migrant or looking to change your career?
Our job ready programs will give you skills and knowledge, in-demand certifications, career counselling and local work experience.
 
We can help you to get a job in
With our certification training courses and Job Ready Programs, we have helped hundreds of job seekers with employment and placement.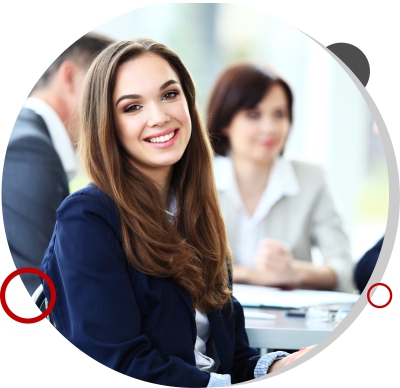 Don't have a relevant degree, not a problem.


High-quality, cost-effective training since 2004

Don't Wait. Fill the form for a free no-obligation information session with our job consultants.
What you gain from our Job Programs
Logitrain is the leading IT certification institute in Australia, with training centres in Melbourne, Sydney and Brisbane. Our job-ready programs are the answer to graduates, migrants, and career changers who cannot or are struggling to break into the Australian job market.
Logitrain was solely incorporated into helping people get a job and advancing the careers of already employed professionals by providing them with indispensable skills required by today's ever-changing and challenging IT job market.
Our Job Ready Programs
Equip you with technical skills required by Australian job market
Help you get certified with the leading IT certifications from world class vendors
Provide you top class career counselling for technical, behavioural and group interviews
Give you local Australian job experience which is critical in getting a job
Job Program Overview in Less Than 3 Minutes
Job Program: Success Stories
Our program offers exposure to the Australian workplace environment. There is a simple requirement, and Job ready program applicants can send us a copy of their resume, which is the application document for assessment against eligibility requirements and JRP applicant guidelines. The candidate can specify their nominated occupation and gain the required skills through training. Once the job ready final assessment is complete and the eligibility requirement is met, the candidate can sign up. Some candidates within the program have applied for their provisional skills assessment, and some are looking for a skilled visa. We find for workplace assessment, the professional bodies require 12 month full time paid employment or equivalent part time employment
Our job ready program JRP 3 is completed quicker. However, we suggest a minimum of 12 months is available to the candidate.
The supply of this course/package/program is governed by our terms and conditions. Please read them carefully before enrolling, as enrolment is conditional on acceptance of these terms and conditions. Courses run subject to registrations.
OUR ACCREDITATIONS


















Find out why we are the leading choice to help boost your career in Australia

Prepare to get IT job ready in 8 weeks

Trained 10,000+ professionals and counting

Experienced Provider: Operating Since 2004

Trained staff from 1000+ Australian Businesses
We Have Placed Candidates In


















SATISFIED CUSTOMERS
Approachable and knowledgeable; comfortable surroundings. Logitrain does make IT training easier
I recently followed the ITIL Foundation course at Logitrain. The training, materials and facilities were excellent and I would not hesitate to train with Logitrain again.
Had a blast! Great course, will be back soon to do another.
Thanks for a great week! Really enjoyed and feel I picked up a lot. Great Trainer! Will definitely look at further studies here.
Well-presented and able to convey immense knowledge to class. All queries were responded to promptly.
Excellent teaching method, easy to understand.
Logitrain provided a valuable insight into ITIL and enabled me to excel and advance my knowledge through a simple and well organised series of sessions.
Great place to study for certification, knowledgeable persons, excellent customer service. Ready to answer queries on the spot, very helpful.
The trainer was very patient and gave everybody the opportunity to participate.
The trainer explained everything very well. Logitrain was very helpful for me in getting a better overall understanding of CCNA. I previously had studied it 2 years earlier but required revision
SOME OF OUR CLIENTS
Over 1000 organisations have relied on Logitrain to be their trusted training partner.

























High-quality, cost-effective training in Australia

Don't Wait. Fill the form for a free no-obligation information session with our course specialists.