Training Courses
Since 2004, we have been delivering training courses to equip you with the skills required by the dynamic Australian job market. Experience expert training at Logitrain.
View Course Catalog
Job Programs
Choose from a range of job programs to start your career with training, local experience and counselling. Ideal for graduates, migrants and career changers.
Browse Job Programs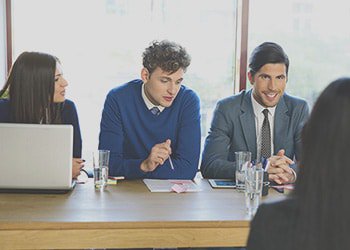 Career Counselling
We have trained and helped thousands get a job. Our highly engaging career counselling sessions will give you the edge over candidates with expert advice.
Career Counselling Options












Why choose Logitrain for IT Courses and Job Programs?
The Training Experts
Trained thousands of students from individuals, businesses to government departments.
The Recruitment Experts
Our recruitment consultants know the Australian job market like no other.
Trained. Certified. Hired
With our job programs, we give you what it takes to get a job. Call us 1800 159 151.
Simply the Best
With a 4.7 rating out of 5 from 350+ reviews, our numbers speak for them self.
Trusted by Australian Businesses
We have trained participants from hundreds of Australian companies.
Jewels in our Crown
We are preferred training supplier to Optus, Telstra & Department of Defence.
Since 2004, Logitrain been providing high quality low cost training, career counselling and resume writing services. We have worked with hundreds of businesses, trained thousands of students and we are ready to train you.
Delivering extraordinary training and recruitment services to Individuals, Australian Businesses and Australian Government using state of the art facilities, highly qualified instructors and recruitment experts.
Our team of highly qualified, multi-vendor certified instructors have years of experience in delivering high quality training by imparting the skills and knowledge required to help achieve your goals. Our IT training and certification course centres in Melbourne, Sydney and Brisbane are equipped with state of the art equipment to give you the technical skills to succeed. Logitrain offers various IT and computer training courses including Microsoft, Cisco, ITIL, Agile, CompTIA, Juniper, Virtualization, project management, cyber security, Citrix, website development, business analysis certification and training courses, Microsoft Office and Sales courses.
Have a team to train? Let us know and we can tailor a course to suite your requirements and deliver it at your premises.
In Job Programs 3 our highly skilled recruitment team will work hand-in-hand with you and won't give up until we get you a job. In Job Programs 1 and 2, our team works with the candidates to offer skill sets, career guidance and career advice. We are delighted to place numerous clients in jobs in Australia, the reviews are a testament to the quality of our information and communications technology services.
Logitrain is a leading Australian IT training, IT courses, computer courses and career counselling provider. We offer a diverse range of courses from leading vendors. Our IT Training Melbourne, Sydney, Brisbane and Adelaide facilities are equipped with state of the art equipment. At Logitrain we provide on-demand and live online training to participants in Canberra, Perth and anywhere.
OUR SATISFIED CUSTOMERS
Approachable and knowledgeable; comfortable surroundings. Logitrain does make IT training easier
I recently followed the ITIL Foundation course at Logitrain. The training, materials and facilities were excellent and I would not hesitate to train with Logitrain again.
Had a blast! Great course, will be back soon to do another.
Thanks for a great week! Really enjoyed and feel I picked up a lot. Great Trainer! Will definitely look at further studies here.
Well-presented and able to convey immense knowledge to class. All queries were responded to promptly.
Excellent teaching method, easy to understand.
Logitrain provided a valuable insight into ITIL and enabled me to excel and advance my knowledge through a simple and well organised series of sessions.
Great place to study for certification, knowledgeable persons, excellent customer service. Ready to answer queries on the spot, very helpful.
The trainer was very patient and gave everybody the opportunity to participate.
The trainer explained everything very well. Logitrain was very helpful for me in getting a better overall understanding of CCNA. I previously had studied it 2 years earlier but required revision