Microsoft offers numbers of certifications and it is one amongst the simplest ways to boost an IT career. Whether someone works or want to work as an IT professional, analyst, developer, system, or database administrator. Microsoft Certification can help to prove the IT skills and increase the probabilities of getting hired or promoted.
Achieving Microsoft Certification shows an individual's competence in a specific IT role, and it may end up in all sorts of work-related and personal benefits. Around 80 percent of hiring managers report that Microsoft IT certifications are medium to high priority in hiring decisions.
Microsoft Certifications include:
Microsoft Technology Associate (MTA)
Microsoft Certified Solutions Associate (MCSA)
Microsoft Certified Solutions Expert (MCSE)
Microsoft Solutions Developer (MCSD)
Microsoft Office Specialist (MOS)
There are seven different categories of Microsoft Certifications:
Cloud Platform and Infrastructure: Microsoft Cloud certification is right for the IT professional who designs, deploys, configures, and manages a Windows Server environment, stand-alone or cloud-based, which can include various desktops and devices. those who achieve this certification can work as systems administrators, systems analysts, or technical specialists.
Mobility: This category is for end-user and desktop topics, including Windows 10, desktop, and enterprise applications. This certification is designed for people who deploy, configure, and manage a Windows desktop environment and related devices on-premises or within the cloud. IT professionals with this of certification can work as help desk technicians, desktop support or system administrators.
Data Management and Analytics: Microsoft Data certifications covers database design, creation, and maintenance. Data storage is essential to most business computing, and nearly every website is supported by one or more databases running in the background. A database administrator is the in charge of all types of database-related functions, from development to storage and retrieval, troubleshooting and security. Now, Microsoft's database coverage also integrates business intelligence and large data/data analytics components, so IT professionals curious about these topics will find plenty to learn.
Productivity: This category brings the Microsoft Office Specialist (MOS) credentials along with those associated with Microsoft productivity offerings, like Exchange Server, SharePoint Server, and Skype for Business, similarly as Office 365 identities, requirements, and services.
App Builder: Microsoft App Builder certifications are development-oriented that covers the ins and outs of using Microsoft solutions and designed for application and mobile app developers who use programming languages and source code to make software. It also includes development for Microsoft's cloud-based Azure environment and for software lifecycle management as well.
Business Applications: Microsoft Business Applications certifications focuses on Microsoft Dynamics 365 platforms and technologies, including Dynamics 365 for Sales, Customer Service, Marketing, Distribution and Trade, Trade, financial management and operations, Retail, and Field Service, etc.
Core Infrastructure: Core Infrastructure focuses on virtualization, storage, networking, system management, identity management, and modern data centers.
Following image shows certifications one can achieve as per their interests according to the categories: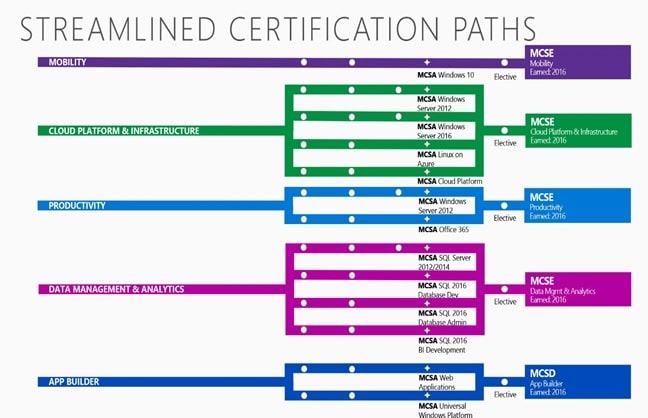 Call Logitrain on 1800 159 151 today.