To be successful in an IT field, one should be aware of the technicalities of the field. You cannot just walk into a company as a network administrator and expect someone to teach you all the technical jargon. In recent times, time is money. The more time you take to adjust to a new environment and start working efficiently, the business sees it as a loss of money and business for them. They would definitely want someone who is aware of the basic terminology and troubleshooting concepts.
If you want to start your career in networking, some basic certification would be necessary as companies consider certification as a way that showcases the individual's knowledge about the subject. Research shows that recruiters consider certification as criteria for filtering out the number of applications that are sent for a particular job.
Network+ is an entry-level certification that shows the employer that you are aware of the basic concepts of networking and routing. To enter the IT sector as a technician, you would definitely need this certification. CompTIA certifications are the most popular in this category and are recognized by most companies. It covers troubleshooting of many topics such as software, hardware and networking. This certification is much preferred over others as it is comprehensive knowledge about the overall networking and routing concepts and is not specific to any particular technology.
Few benefits of getting the certification include:
Thorough knowledge: Once you complete the certification, you will get a thorough knowledge of the concepts of networking. This will increase your productivity in your workplace as you are very well aware of how to troubleshoot issues.
Further certifications: This certification is a base and you can grow your career from here by doing further certifications in networking to become an expert in the field.
Stand out from the crowd: As with other certifications, Network+ also proves useful in standing out from the rest of the people who do not have any certification at all. It gives you that extra edge over others.
Salary hike: While this certification is usually considered for an entry-level position in an IT field, this still improves your chances of getting a better salary because of the certification's worth.
Taking appropriate training will give you the proper motivation required to study and also help you in understanding the concepts better. Choosing the right way to train is a very important factor. Since it is usually beginners who do this certification, it is always better to get trained from a reputed training institute. If you are very passionate about the subject, you can have study materials online and learn yourself. But, that process might take a lot of time and training institutes will help you in saving a lot of time.  If you have a passion for a particular field, you can definitely succeed in it.
IT sector keeps growing every day and the need for professionals who can handle a large number of computers and networks are increasing in demand. Most companies find it difficult to match the right skill for the job and hence getting the Network+ certification will definitely increase your value as a network administrator. This certification proves that you are capable of configuring network infrastructures, maintaining them, troubleshooting issues and handling installations which include the overall network i.e. hardware and software.
If you want to start your career as a network administrator and you love working in the networking domain, acquiring the Network+ certification is the ideal way to do so. You can prove your worth with the right certification in the field and enhance your chances of landing your desired job.
Logitrain delivers the best Network Training Courses, for more information please visit www.logitrain.com.au or call 1800 159 151.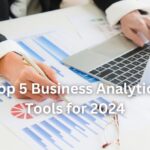 The constant pursuit of data-driven decision-making has led to an unprecedented change in the corporate sector in recent years. The analytics sector has become an..
Read More →