The main role of an AWS architect is to help you deploy your applications on the AWS platform. Now, this is nothing but a cloud computing platform. So, it's not to say that you cannot deploy your applications on the cloud computing platform yourself, it's just that when it comes to organizations the applications that you need to deploy become a whole lot more complex. That's where an AWS solution architect can help. Ever since cloud computing became a thing; companies around the world have started migrating their physical infrastructure onto the cloud. That's what an AWS solutions architect does. They help you migrate your physical infrastructure onto the AWS cloud.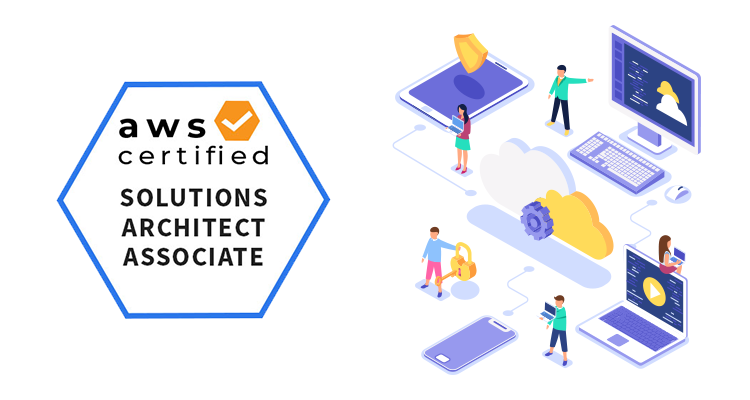 Companies around the world work on a budget and an AWS solutions architect will help design a cloud infrastructure based on the organization's budget. Before that can be done, however, an AWS solutions architect has to create a design with an intricate and detailed blueprint of the cloud infrastructure that they plan to set up. Now AWS solutions architect also has to focus mainly on non-functional requirements like:
Usability
Reliability
Scalability
Performance of the cloud infrastructure
They are also responsible when it comes to minimizing risks that an organization can face when it comes to cloud computing platforms. They could face risks like:
Security leaks
Calculation mistakes
Application downtimes
An AWS solutions architect has to ensure that these do not happen. Let's talk about how you can become an AWS solutions architect. To become an AWS certified solutions architect, you ought to clear AWS certifies solutions architect associate level examination.
Details about Exams
The exam score ranges from 100 to 1000 marks and a minimum passing score is 720. However, there is a catch; the passing marks are actually set using statistical analysis. So, they can be changed based on how difficult the examination actually is.
The exam fee is 150$ and you can also take a practice exam which costs 20$. Regardless of the examination that you take, be it solutions architect or develop, any associate-level examination costs 150$.
For the professional level examination, it's 300$.
The exam duration is of 130 minutes and you have two types of questions, multiple-choice, and multiple answers. The multiple-choice questions have four questions out of which one is right and you have multiple answers where you have five options out of which two are correct.
You may take the examination in English, Japanese, Korean, and simplifies Chinese.
Exam Content
You are going to see five major domains in the examination. Here we are going to see all the three domains with their respective weightages.
Designing Resilient Architectures: 34%
Define Performing Architectures: 24%
Specifying Secure applications and Architectures: 24%
Design Cost-Optimized Architectures: 10%
Define Operationally Excellent Architectures: 6%
As there is a shortage of experienced AWS certified solutions architect, it is highly recommended that you get yourself registered in an AWS course. www.logitrain.com.au will help you with your AWS certifications.